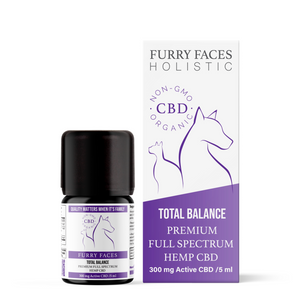 QUALITY MATTERS WHEN IT'S FAMILY
Furry Faces CBD Drops are ultra concentrated (3mg Active CBD per drop). Place drops on any of your dogs or cats favorite treats or food. Instantly making a high quality CBD treat you know your pet will love!
Furry Faces CBD (cannabidiol) is made from only the aerial parts of the Hemp plant. Creating a Premium CBD Extract which has zero additives, Co2 extracted for a safe and chemical free CBD that is ultra concentrated, non psychoactive and contains significant amounts of secondary cannabinoids that work synergistically to create the Entourage Effect.

Furry Faces Holistic is here to help you and your pet create more time, more moments and more love
USES FOR FFH PET CBD
Immune Boosting
Creates Homeostasis physically and emotionally 
Alleviates Joint Pain & Inflammation
Stomach or Digestion Issues
Separation Anxiety
Lack of Appetite
Muscle Spasms and Seizures
Skin Issues
SUGGESTED USE AND DOSAGE:
For cats and dogs
For optimal health and wellness at any age (1-2 drops per 10 lbs) 1-2 times per/day
Therapeutic dosage: for pain, arthritis, anxiety and recovery from illness or injury (1-2 drops per 10 lbs) every 8 to 12 hours
Always start with the optimal health and wellness dosage guidelines and slowly increase to therapeutic dose over a 3 to 5 day period
Shake well and always consult your veterinarian when using new products. Store in cool dry place. KEEP OUT OF REACH OF CHILDREN