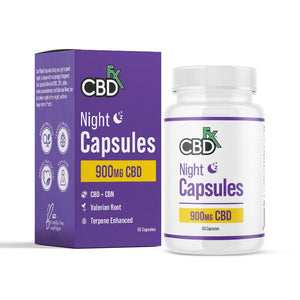 Perfect just before bed, our CBD + CBN Night Capsules help place your mind and body at ease, preparing it for a night of restful and relaxing sleep.
Combining the benefits of CO2-extracted, non-GMO, vegan, and 100% organic CBD + CBN oil, our Night Capsules bring you the calming-inducing benefits of CBD and take them a step further with the "Entourage Effect" brought with the inclusion of high-potency CBN. Working in tandem, both cannabinoids work to produce a greater sense of calm both physically and mentally.
Our Vegan CBD + CBN Night Capsules also include a host of natural extracts and botanicals that serve to heighten the effects of more restful sleep. These include organic Valerian Root, GABA, Magnesium, and a specialized-blend of terpenes that serve to calm the mind and tire the body to make getting to bed easier than ever, and sleep more restful and energizing.
When all combined, our CBD + CBN Night Capsules give your body everything it needs to relax, destress, and prepare for sleep without the added side effects typically associated with prescription medication or over-the-counter sleep aids.
Each of our Vegan CBD + CBN Night Capsule for sleep bottles come in at 900mg (60ct, 30mg per serving) to bring you a more restful sleeping experience.