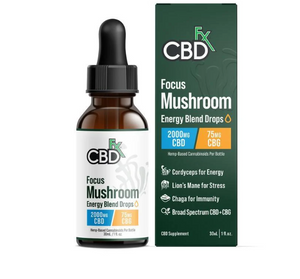 Perfect for you if …
You're looking for daily energy and focus, as well as immune and wellness benefits — perfect for morning health routines or when you need a pick-me-up.
Wellness: Engaging the endocannabinoid system & natural mood enhancers
Energy: Natural vitality without the crash of caffeine
Focus: Promotes brain and cognitive health
Immunity: Improved overall health and resistance
Directions for best results:
Shake well before use. Place one full dropper (1mL) under the tongue and hold for one minute before swallowing.
Ingredients
Hemp extract, cannabinoids, cordyceps, lion's mane, chaga, vegetable glycerine, purified water, flavoring (Sicilian lemon), terpenes (focus blend).
Facts
Available in 30mL (2000 mg CBD + 75 mg CBG) 
100% organically grown hemp that's extracted into broad spectrum CBD
100% organically grown cordyceps, lion's mane, and chaga mushrooms
All-natural flavoring (Sicilian lemon)
Each serving contains 100mg of mushrooms
The Benefits of CBD Focus Mushroom: Energy Blend Drops
It's hard to beat the wellness power of CBD, due to its beneficial effects on the body's endocannabinoid system. Mushrooms can also have multiple positive effects on the body, including adaptogenic (stress relief) and nootropic (brain function) benefits. Our blend of CBD, mushrooms, and terpenes also gives you a blast of energy and focus.
Wellness
Cannabidiol (CBD) interacts with the endocannabinoid system, helping the body to maintain homeostasis in several crucial systems and organs. Lion's mane, cordyceps, and chaga can have beneficial effects on the neurological system.
Energy and Focus
Cordyceps mushrooms give you a boost of natural energy, without the jitters of caffeine. In addition, CBD can settle the mind and help you to better focus your thoughts.
Immunity
Chaga mushrooms have been used for centuries to help boost the immune system. CBD has anti-inflammatory properties, as well, which can also help with immunity.
Stress
Lion's mane, cordyceps, and chaga are all adaptogenic mushrooms that help the body to deal with stress.
Why Are CBDfx Mushroom Oils the Best Mushroom Tincture Oils?
The CBDfx label represents quality and potency. Our CBD is derived exclusively from hemp plants grown organically at our state-of-the-art partner farms in the USA, and extracted with clean CO2. Our mushrooms are also organically grown, ensuring that all of our CBD mushroom oil drops are the purest and most potent tincture oils on the market.
How Can I Be Sure the CBD and Mushroom Extracts in My CBD Mushroom Oil Are Pure and Organic?
Every reputable CBD company gets their products tested by an independent third-party laboratory, and then makes those results available to its customers. At CBDfx, we provide tests for every product we sell on our website, so that you can be sure that there are no contaminants in your product and so that you can verify the potency of your CBD mushroom oil tincture!
What Are Cordyceps Mushrooms?
Cordyceps sinensis (cordyceps) has been linked to stress reduction on the body, increasing resistance to stress-inducing activity. This mushroom is also considered a nootropic supplement due to its positive effects on the neurological system. Cordyceps mushrooms are often taken for a boost of energy (some even take it for libido). This mushroom is great for athletes and anyone looking to ease stress-related wear and tear on the body.
What Are Chaga Mushrooms?
Inonotus obliquus (chaga) has been taken for centuries to help with immunity and overall health. This mushroom gets its nickname, chaga, from a medieval Russian prince, who took it to treat his lip (gaga) cancer. While we don't make any claims about the use of chaga for such a serious disease, we can tell you it's commonly used for immune response. Chaga is also considered to be a nootropic mushroom, due to its positive effects on brain function.
What Are Lion's Mane Mushrooms?
The bushy, thorny spines of Hericium erinaceus are responsible for this mushroom's ferocious nickname, lion's mane. This mushroom has traditionally been taken for its adaptogenic benefits, helping the body to regulate stress and inflammation. Lion's mane is also considered to have the greatest nootropic effects of all mushrooms.
Where Does the CBD in CBD Focus Mushroom: Energy Blend Drops Come From?
Our CBD is grown in the rich, fertile soil of Kentucky, and is subject to the strict standards of the U.S. Government.
Cultivation
The hemp crops we use are organically grown, pesticide-free, and non-GMO, to ensure that your CBD is free from pesticides, heavy metals, or other harmful chemicals commonly found in less reputable CBD products.
Extraction
Once we separate the "good" plants from the "best," we leverage a specialized process that utilizes clean CO2 to extract the CBD from the hemp plant, leaving behind no solvents as with other cheaper methods.
All-Natural Ingredients
Once the organic, highly purified CBD oil has been extracted from the hemp, we combine it with other natural ingredients, all quality assured under Current Good Manufacturing Practices (cGMP).
Lab-Tested
In the spirit of transparency, all of our products are quality tested by an independent third-party laboratory and the results are made available for all of our customers to see on our website.
Types of CBD
The CBD used in our CBD Focus Mushroom: Energy Blend Drops is broad spectrum CBD, organically grown and extracted using clean CO2. See how broad spectrum oil compares to other types of CBD.
Certificate of Analysis: Link