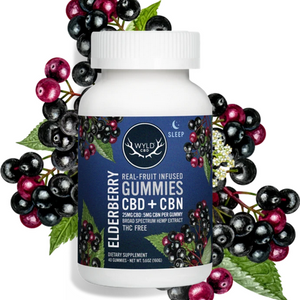 Oregon brand Wyld CBD specializes in creating top-quality CBD gummies using real fruit extracts and broad-spectrum CBD oil extracted from USA-sourced hemp. 
The company uses only organic, vegan, and all-natural products while employing certified testing labs to ensure the safety, quality, and potency of its products.
Wyld CBD is connected to Wyld Canna, a brand known for its THC-infused cannabis edibles.
Recommended for Optimizing Wellness
Wyld CBD products are recommended for individuals looking to explore CBD's therapeutic benefits via high-quality, broad-spectrum CBD edibles and drinks.
The products are rich in CBD and other beneficial cannabinoids that synergize with each other to influence the body substantially. This phenomenon is called the entourage effect.
Formulated to contain 25mg CBD + 5mg CBN
Perfect for preparing for sleep. It's a little like watching sheep count you. 
Certificate of Analysis: Link